Artist Interview: Ang Qing Sheng
Having premiered at the Singapore Chinese Film Festival, Qing Sheng's film "Lak Boh Ki" may seem like a straightforward suspense film on first viewing, but upon seconds, one begins to peel behind layers of hidden meaning. The composition of shots and timing of animation masterfully toy with our feelings over and over again for this innocent little baby tethering upon the edge of a high-rise flat. With each subsequent lurch, we begin to connect our emotions with the strong visual symbolisms that provide the film's subtext. Cartoons Underground speaks to the filmmaker to get a sense of what goes on inside his mind.
07:38 // Animation // 2016 // LASALLE College of the Arts

Lak Boh Ki is a Hainanese term for "Drop Nowhere". A one-and-a-half year old baby who dropped his plush Merlion toy onto the ledge outside of his HDB apartment window tries to get it back, and in the palm-sweating process reveals the contemporary Singaporean landscape made up of foreigners.
CU: Could you tell us more about yourself? What got you into animation? Your inspirations and influences?

AQS: It all started when I came across this software called Macromedia Flash back in 2001. I was fooling around with the software with my cousin, and we created stickman animations for fun back then. I really liked seeing images move and even learned some programming skills to make those flash stickman shooting games that were popular back then. As I grew up playing video games, I became quite settled on being an animator since secondary school. My influences before art school was Final Fantasy, and after attending NTU ADM and working at LASALLE, I would say my favourite animations are Spirited Away (Hayao Miyazaki) and 5 Centimeters per Second (Makoto Shinkai), and now I keep a big list of inspirations which I can use for both my references and teaching at LASALLE College of the Arts animation programme.

CU: What was the seed inspiration for your film "Lak Boh Ki"?

AQS:
Lak Boh Ki
was my first project after graduation. I was trying to explore the possibilities of making an animated film that can be identifiably 'Singaporean' as I fell in love with Singaporean live-action films like Anthony Chen's
Ilo Ilo
at that time. I have always been interested in my relatives' conversations in Hainanese during our weekly family gatherings, especially gossips, and managed to hear this story about a child who climbed into the neighbour's house through the HDB window several times due to negligence of the mother, and eventually fell to his death. I combine parts of this premise with episodes of my life – my beloved one-year-old nephew (the main character); my ex-indian-neighbour's daughter who stared at us from her door without blinking when they first moved here; my mother's cooking with the wok; Singaporean aunties and their priceless expressions; the laundry in my house (yes, the baby's house is my house in the film) and people throwing tissue papers out of their window that get stuck on ledges.
CU: I'm curious about the way Singapore is represented in animation. You managed to achieve a visual design that stays true to the sense of place (instead of adopting a style that mimics western/japanese animation), and it's more impressive as this is achieved through CG. 
Could you tell us more about the pre-production phase and how you landed on such a design?

AQS: My graduation music video,
"Affinity: Our Song"
, left me with a design which I would like to develop further in a narrative short film. I found this short film extremely suitable for a hyperrealist style as I wanted to capture the fullest quality of a cultural space (in this case, the HDB flat). It also matches my filmmaking style, which is to create a maximum cinematic experience for the audience. I would say watching live-action films like the ones from Hong Kong as well as practicing traditional painting helped me in my development of the aesthetic.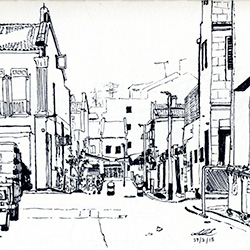 CG Render of Kitchen Set in Lak Boh Ki
CU: As I watched the film, I have a sense that the film touched on certain socio-political themes. The way I see the film, the Merlion soft toy represents this unceasing pursuit of materialism/achievement/equality – ie, the ideals our society have come to seemingly identify with. There are also numerous symbols that are very subtle and well-placed, such as air-condition units, the bedsheet that acts as a "safety net".
Could you share more about what your intentions are with the film?
AQS: I think your readings of the symbols surpasses mine and I like that! Simply put, I chose the Merlion to represent the Singaporean identity. As young Singapore (baby) navigates its way to find an identity, we will find that it is an impossible task (the toy is never to be retrieved), and that our identity is inherently borrowed from many others (coloured Merlion toys at the end). My intentions with the international audience is different, which is to remind them to look after their children! There is also some subtle subtext about foreigners in Singapore in the film, meant to highlight a factual phenomenon of the changing residential demographics. I am also hoping that this film is able to show how a 'Singaporean' animated film can be.
CU: For you, what does it mean to be making a Singaporean film, animated or otherwise? What does that identity mean to you as a filmmaker?
AQS: I think animation allows you to think beyond what live-action film can do, right down to the brainstorming of ideas and scriptwriting process. However, I don't think that identity (as animator) is different from other filmmakers in Singapore, because we are all using the same language of cinema. Perhaps within the independent scene, I would see my work as moving more towards the commercial side than the fine arts side. Imagine a scale where one extreme represents "personal" films (for example, Tan Wei Keong's amazing work "Pifuskin"), and the other represents "universal" films (like One Animation's Insectibles which looks really good). I am interested to find a spot somewhere in the middle, perhaps nearer to "universal" – where I could tell culturally-specific stories that would appeal to a universal audience.  After all, my dream is to make animated feature films that can be screened worldwide!


Film Still from 5 Shades of Solitude / 5种孤寂与静默

CU: What were your experiences with Utter Headtrips? Has there been any difference in the way you approach filmmaking since "Lak Boh Ki"?
AQS: I did not expect such an opportunity to arrive at my doorstep so quickly, much less attempt an experimental 2D animated short film. I am really glad to learn even more about animation through this process, and had the freedom to create designs that I normally wouldn't attempt. It was art-making to be honest, including the experimental music style. Utter Headtrips empowered me with more confidence for my future productions, be it 2D or 3D animation.
CU: You started a studio called "Aqueous Studio", what has it been like? Any projects that you are currently working on? 
AqueouS Studio is not a real studio at the moment, more like my dream studio which I would like to set up one day! I am only using the Facebook page for educational purposes at the moment, following the success of my blog (http://aqsrelax.wordpress.com), which shares a post about animation every alternate day for the past 5 years. I am sharing a lot of contemporary animated films on the page now, do feel free to follow! My other intention with AqueouS Studio is also to keep collaborating with awesome artists around my network to make animated films. I am developing several ideas on script at the moment in the hope that time, opportunity (and funding) will align one day for me to put together a team of talents again. I am really thankful to LASALLE College of the Arts for incubating this dream studio!


CU: Lastly, what are your hopes for Singapore animation?

I think Singapore animation is still at its infancy stage. There are several key players in an unstable position, especially our friends who own animation studios, and I really respect them for holding the fort! Our other friends – the independent animators – seems to be slowly finding their paths, and I think it is exciting to have all of us continue producing animation regardless of how bleak the industry may look. All we need is just one or two major sustained breakthrough… it may come a few years later or perhaps a few decades, but what is important is that everyone in this small community continues to create and help one another out or even collaborate!
interview conducted by Jerrold Chong